Creative Blocker,

Web Design

HTML & CSS +
Javascript +
Heroku Deployment
I struggle with creative block just as often as any other creative. I wanted to build a tool that could generate ideas for me when I couldn't think of any myself. It was also a useful opportunity to learn more about javascript, github, and code hosting.

---
The Twitter Bot

I decided to build a Twitter Bot to assist me: Creative Blocker uses an API to collect and post popular quotes from the internet once per hour. At the time of its inception, I was gaining traction on social media with a certain style of collage with quotes overlayed. I figured that if I could have the quotes supplied to me, the collages would come much easier.

The bot was built using HTML/CSS and some Javascript (node.js, npm) and is being hosted through Heroku.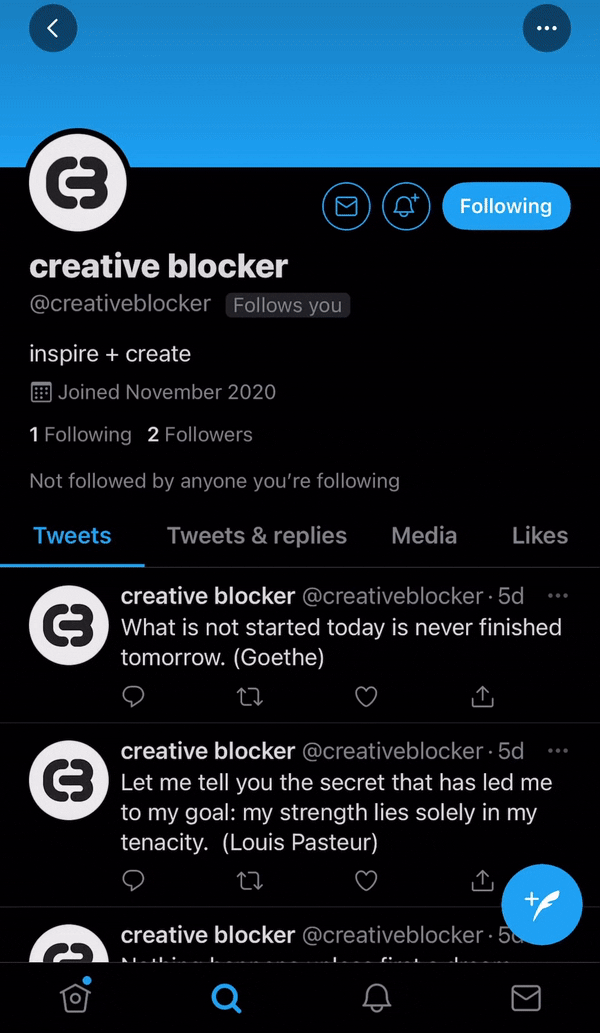 ---
The Interactive Site

Aside from the Twitter bot, I also built a webpage where people could create their own versions of the collages I was making. All they had to do was click around the page and drag the images that appeared, then add their own quotes at the bottom! This was a bit more complex than the Twitter bot, requiring a decent bit of Java and J-Query.
Check out the webpage here!
Or try it out for yourself below✨️